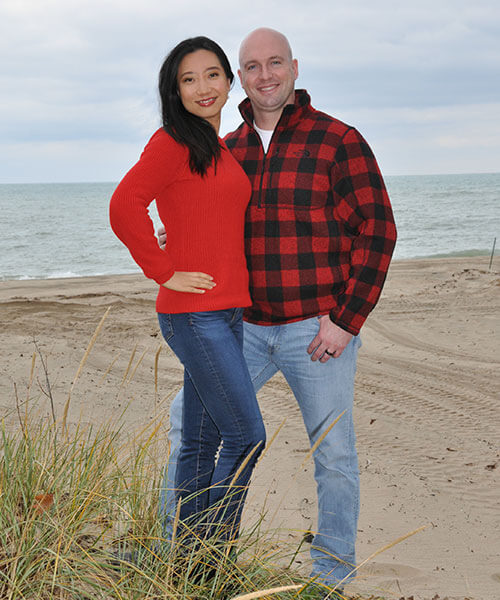 ---
Doctor Thomas is very familiar with the Southwest Michigan and Northern Indiana area. He grew up in Michigan and attended Lakeshore High School in Stevensville. After graduation, he began his college career at the University of Nebraska-Lincoln with a pre-dental focus. After earning his Bachelors degree in Exercise Science, Bachelors of Science in Education, and Masters of Science degree in Nutrition, Dr. Thomas discovered his passion for orthodontics. In 2006, he returned to the University of Nebraska Medical Center, College of Dentistry to pursue his general dentistry education. During dental school, Dr. Thomas met his wife, Cheryl, and they became married in 2010. 
After graduating and receiving his Doctor of Dental Surgery degree with distinction in 2011, Dr. Thomas received his Certificate in Orthodontics at the State University of New York at Buffalo in 2014. In 2015, Dr. Thomas became a Board Certified Orthodontist after successfully completing the requirements by the American Board of Orthodontics. His diverse background has influenced his approach to serving others through to his exceptional people skills and wide variety of experience.

Dr. Thomas expresses his passion for orthodontics with his patients and staff by promoting a fun, caring, and "down to earth" atmosphere. However, he never compromises excellence, teamwork, and customer service. He believes in serving the entire person not just their teeth.
---
Education
---
State University of New York at Buffalo School of Dental Medicine 2011 – 2014
University of Nebraska Medical Center College of Dentistry-Lincoln 2007 – 2011
University of Nebraska-Lincoln 2003 – 2005
University of Nebraska-Lincoln 1997 – 2002
---
Research
---
Dental School Research 2009 – 2010
Presentations:
– Student Scientific Program – March 2010
– Nebraska Dental Association Annual Session -April 2010
– IADR General Session March 2011
Graduate School Research -2004-2005
---
Professional Associations
---
AAOF Vanguard Society
American Association of Orthodontics
American Dental Association
American Student Dental Association
American Dental Education Association
Diplomate American Board of Orthodontics
Omicron Kappa Upsilon
---
Honors
---
Chi-Cheung Chan Orthodontic Award
Dean's Award for High Academic Achievement
Dean's Honor List
Regents Scholarship
Summer Student Research Fellowship Award
Academic Scholarship Award
Tom Heiser Award
Dean's List
---
Courses
---
The Six Elements of Orofacial Harmony – Pittsburgh, PA
The Principles of The Alexander Discipline – Dallas/Fort Worth, TX
The Tweed Course – Tucson, AZ
The Four Faces of Orthognathic Surgery – Pittsburgh, PA
---
Certifications
---
Incognito™ Certification – Buffalo, NY
Harmony Certification – Buffalo, NY
Invisalign® Certification – Buffalo, NY
Ivoclar Vivadent, Inc., Diode Laser Training – Amherst, NY
Experiences & Interests
---
Mentoring friends in exercise and resistance Training
Spending time with my dog
Weight lifting
American LeMans Series Racing
Collecting and reading about sports cars
College football
Movies
Bending orthodontic wire